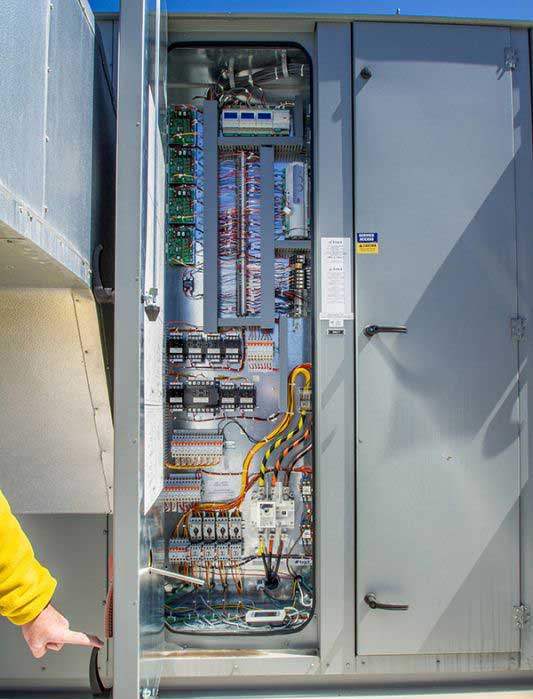 Wiring Division
The Controls Division performs all of our conduit and wiring requirements for HVAC installations as well as installations for controls vendors. This division has many years of experience installing many manufactured DDC systems as well as basic electronic controls. Although we do not consider ourselves an Electrical Contractor, we hold an unlimited Electrical License and can provide a host of electrical wiring tasks in addition to those required for HVAC installations such as motor VFD installation and replacement, lighting upgrades, generators and emergency power systems.
There will come a time when your controls system will no longer function as you require it to, replacement parts are no longer available, and the technology behind it no longer has any factory support. You may find that your control system is not able to expand to meet your needs as your facility expands. The older systems that worked through dial up modems and DOS programs have been replaced with new web-based systems that have outstanding graphics allowing you to check on your facility and make changes from your smart phone. This type of access enables us to troubleshoot your system remotely and efficiently determine if there is a programming issue or a device problem. There are certain circumstances where existing devices can be utilized, and translators can be used to communicate from a new controls system to an older one. There are many options that can be utilized, and we would be glad to explain these to you to help you make an informed decision.
Our Controls division has a great working relationship with many DDC controls vendors such as Siemens Building Technologies Inc., Schneider Electric, Johnson Controls, Engineered Control Systems Inc., Carrier Controls, and many others. We work together with them to provide the best solution for your controls needs by properly installing the correctly engineered system at your facility with programming tailored to meet your design specifications. If you find your system has any retro-fit needs or has reached the end of its reliable life cycle and needs to be replaced, please contact us to schedule an appointment and discuss your controls needs. We will be happy to sit down with you and address all of your concerns and help develop a path that will work for you.